Want to see your name in the high score list in Roblox for a long time?
Here's a little secret that will help you win without making too much effort by clicking the mouse.
You can use the best Auto Clicker for Roblox that auto clicks at a super fast speed, helping you win against the opponents.
Roblox is one of the popular online gaming platforms with multiple games to devour into.
Moreover, it allows users to design games, build castles, and much more.
However, for all this, you need repeated and frequent clicking that often makes the work mundane. It is when an auto clicker comes in handy.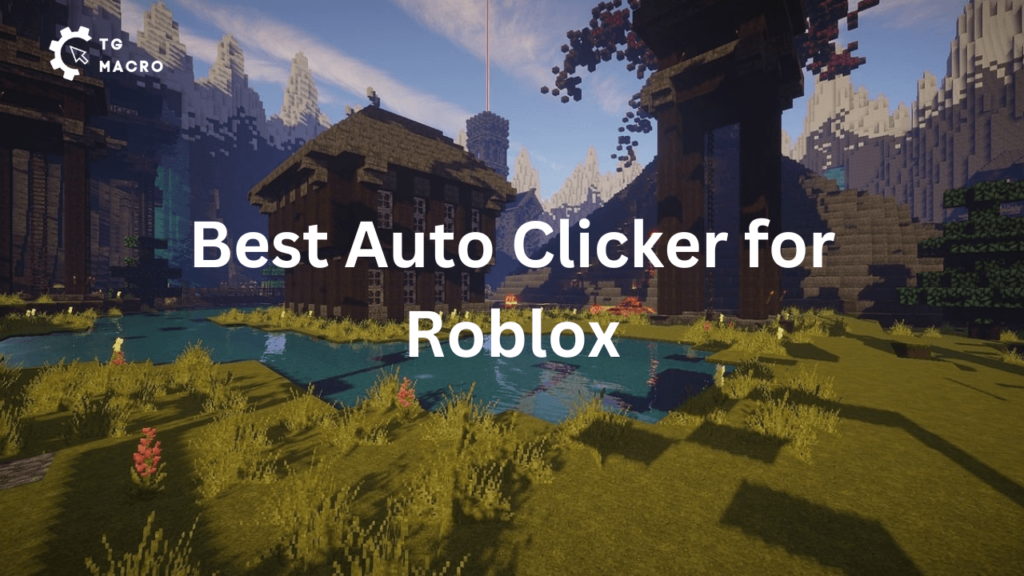 How Does Roblox Auto Clicker Works?
An auto clicker is a tool programmed for the quickest clicking. Once applied to the screen, you can do other work or even get sleep while the clicker will do all the clicking on your behalf.
It is an autonomous program that will generate thousands of clicks within a second. Most people use it for AFK clicking in Minecraft and save a lot of time in building house.
Now that you know how useful an auto clicker is, let's find out some of the best auto clickers for Roblox.
We have listed some of the efficient, trusted, and free auto clickers for Roblox so that you can make the most out of them.
Best Auto Clicker for Roblox
1. IO Auto Clicker
With IO Auto Clicker, you can escape repetitive mouse clicking in roblox games.
This tool is designed to automate repeatedly clicking on a particular segment on the screen.
Another perk of IO Auto Clicker is you can automate keyboard keys too. Also, you get a dark mode feature that makes the game fun and interesting.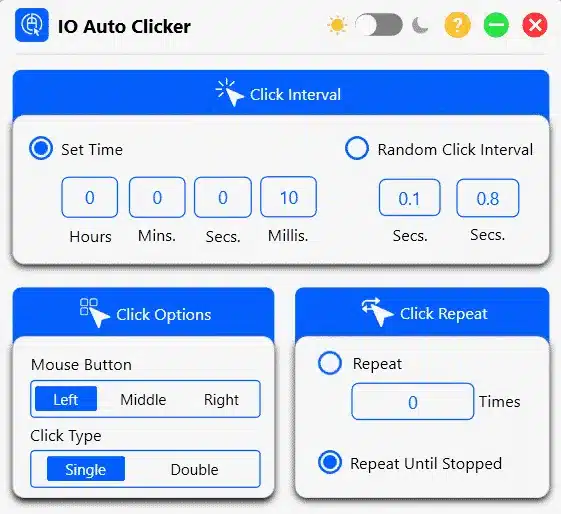 Features
Click Interval– It allows you to set click intervals to control the time elapsed between two consecutive clicks. You can easily get the fastest click setting through it.
Click Type– It will help you decide what click you want- right or left. Also, it gives a choice between single, double, and triple clicks.
Click Repeat– You can choose between the number of clicks you want and 'repeat until stopped' according to your requirement.
Target Points– It works on X and Y coordinates of a click point or 'current cursor fixed location.'
HotKey Selection– You can select the hotkeys to start and stop the mouse actions.
All these features make IO Auto Clicker a great choice for gamers. You can also use the record and playback feature to increase the clicker's productivity.
2. OP Auto Clicker
With multiple customizations and useful features such as place of clicks, number of clicks, the interval between clicks, and much more, OP Auto Clicker has become one of the best for gamers.
It offers two different modes of auto-clicking- at your dynamic cursor location or a prespecified location.
Moreover, you can customize speed and send as many clicks as possible every second, taking your game to the next level.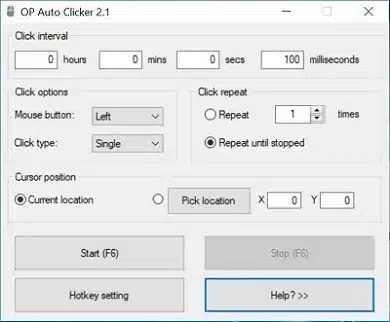 Features:
Timer- It turns off the auto clicker after a set time or number of clicks
Limitless clicks- You can use the right and left buttons to click 'n' number of times
Double-click function- It comes in handy for specific uses
Intuitive user interface
Compatible with every window version
3. Speed Auto Clicker
You can use this amazing, super-fast auto-clicker to hasten your gameplay.
Fully customizable, Speed Auto Clicker repeatedly clicks quickly, increasing the click rate massively. This tool can be used on any game or software.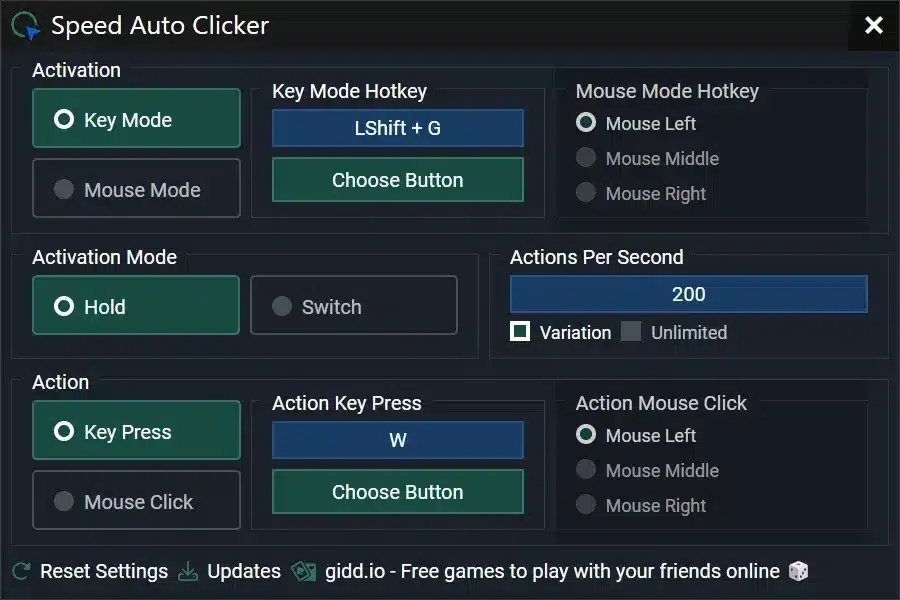 Features
Anti-detection– This tool remains undetected by a third party, ensuring you use it with no fuss.
Activation Mode– You can choose between Switch or Hold using the Hotkeys used for the purpose.
Click Limitation– You can customize this setting by commanding the number of clicks (any specific number) required. You can also view the number of clicks it has already made.
Hotkeys– You can choose the hotkey to start an auto clicker.
Click Rate– You can customize the number of clicks per second required for maximum result.
Works well with all the Windows versions, Speed Auto Clicker could be your go-to option for Roblox.
4. GS (Golden Soft) Auto Clicker
Another useful tool that will automate the mouse-clicking process is GS Auto Clicker.
All you need is a specific Hotkey and start your Roblox journey with it.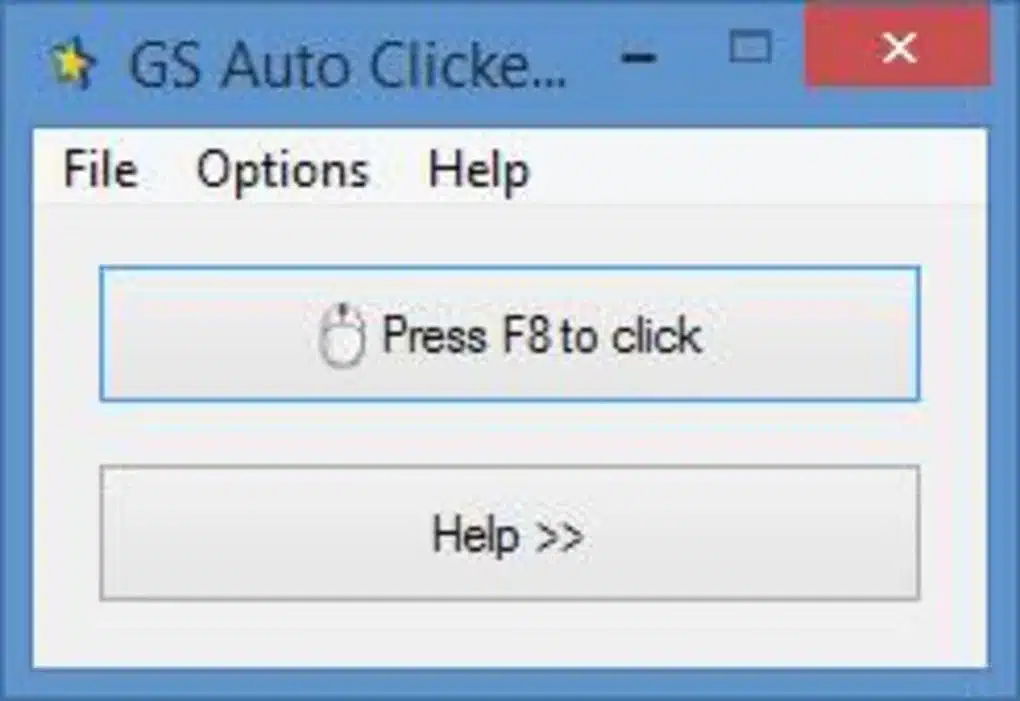 Features
Record clicks– You can record the sequences of clicks on various parts of the screen.
Mouse button selection– You can choose which mouse button to use and whether you want a single or double click.
'N' number of clicks– You can customize the tool for clicking until asked to stop or fix it a certain number of times.
Compatibility– It works well with all versions of Windows.
So, use it to save time and give some rest to your fingers and mouse.
5. MurGee
MurGee helps automate mouse clicking with its advanced and customizable features.
It is completely free and helps play Roblox hassle-free. Moreover, it allows holding the left and right buttons simultaneously, which helps in the game.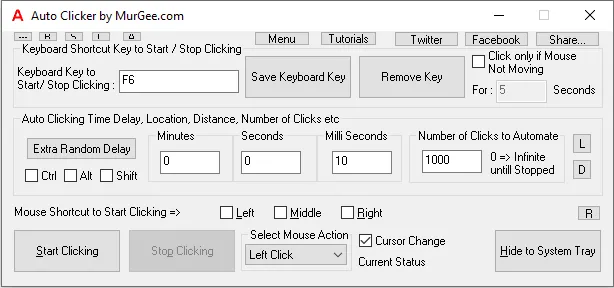 Features
Auto Mouse Click Utility
Define Click Type
X and Y Coordinates
Record and save
FAQs
Ques 1: Are Roblox players allowed to use auto clickers?
Ans: Using an auto clicker is not an offense; however, some servers may detect the inhumanly fast clicks that may lead to a temporary ban on your account.
Remember, many games, including Roblox, consider using an auto clicker cheating.
Therefore, it uses anti-cheating measures that check the player's inputs.
Ques 2: What is the best auto clicker for Roblox?
Ans: Multiple auto clickers serve the purpose; however, you need to be highly cautious while downloading one.
Many auto-clickers come with virus that may infect your device. So, download the best auto clicker for a reliable source.
Ques 3: Which auto clicker is considered safest for Roblox?
Ans: IO Auto Clicker is considered one of the best auto clickers for Roblox, as it is safe and highly efficient.
With a user-friendly interface and easy customization, it has become the most popular auto clicker among Roblox players.