There must be some reason why Gen Z is head over heels for Minecraft.
This amazing mouse-clicking game has taken the world of gamers by storm since its launch in 2011.
Since the game requires a lot of clicking, gamers look forward to finding the best auto clicker for Minecraft to automate their gaming experience.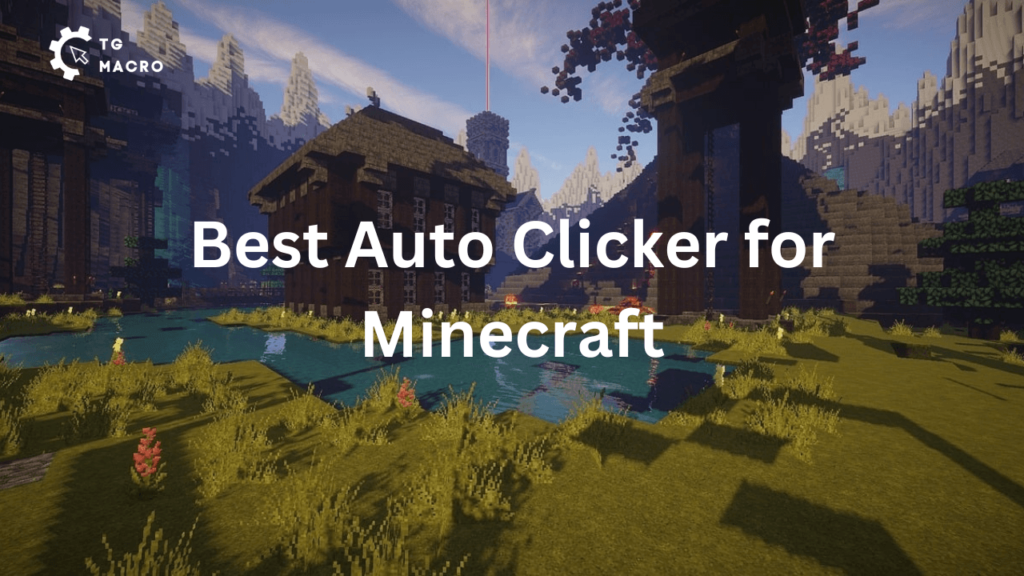 What is an autoclicker for Minecraft?
Auto Clicker is a mouse automation tool that eases playing Minecraft by automatically clicking a button on a particular computer screen element.
Since Minecraft involves a lot of clicking for mining, an auto clicker saves time and effort.
You use this tool to set a maximum number of clicks and activate different game features. 
If you are a Minecraft lover and exploring some great auto clickers that can help with unlimited clicks and ruthless clicking, you are at the right place.
Here, we have selected the best Minecraft auto clicker to keep your hands free from repeated clicking. 
Check them out!
6 Best Auto Clicker for Minecraft (Windows & MacOS)
1. Fast Auto Clicker
With the ability to generate 9999 clicks in one second, Fast Auto Clicker has become one of Minecraft's most useful auto clickers.
The best part is it is free to use, completely safe, and requires no installation.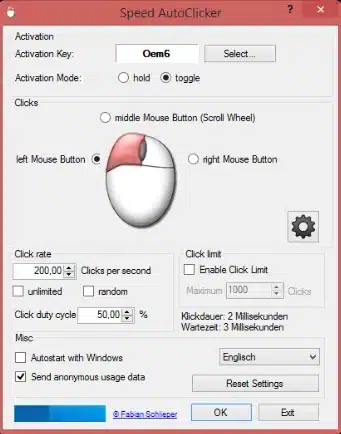 Features
Click up to 9999 times every second.
Trigger the clicking with a keyboard key or mouse button that you can set.
Simulate left, middle, or right mouse clicks.
Automatically stop at a certain number of clicks.
Another good thing is Fast Auto Clicker is free to use and compatible with Windows and Mac. 
2. Easy Auto Clicker
Another useful fast-clicking tool is Easy Auto Clicker, which gives you different options, such as choosing between right and left mouse clicks and the time delay between each click.
It is also free to use.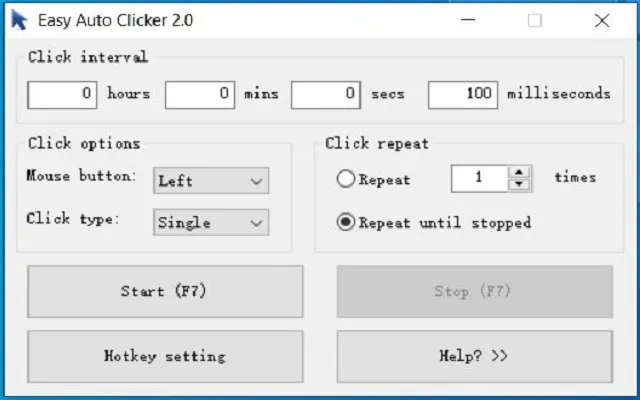 Features
Hotkey to Start/Stop
Choice of buttons or hotkeys
In-Built program to test it out
Can change the settings to click after a certain delay
Selection of right or left mouse click.
Cool GUI
It is one of the best auto clickers with every configuration required for maximizing mining in Minecraft and helping you win the task.
3. Forge Auto Clicker
The biggest perk of Forge Auto Clicker is it is fully customizable.
Also, it is compatible with most Roblox games that require frequent clicking.
Since Forge Auto Clicker is super fast and fledged with many modes of automatic clicking, it is suitable for Minecraft.
Features
User-Friendly Interface
Maximum Amount of Clicks
Low CPU and Memory Usage
Super Fast Clicks
No malware, viruses, or ads
Saves Settings Automatically
Change Hotkeys
Free Updates
Change Click Amount (up to infinity!)
As it allows you to change click speed and cursor position, things get easy and convenient with Forge Auto Clicker.
4. Free Auto Clicker
The robust tool, Free Auto Clicker, can be your go-to option if you want to hit thousands of clicks every second to enhance your gaming experience in Minecraft.
Since there are multiple configuration options, you can make mouse-clicking efficient and valuable for your game.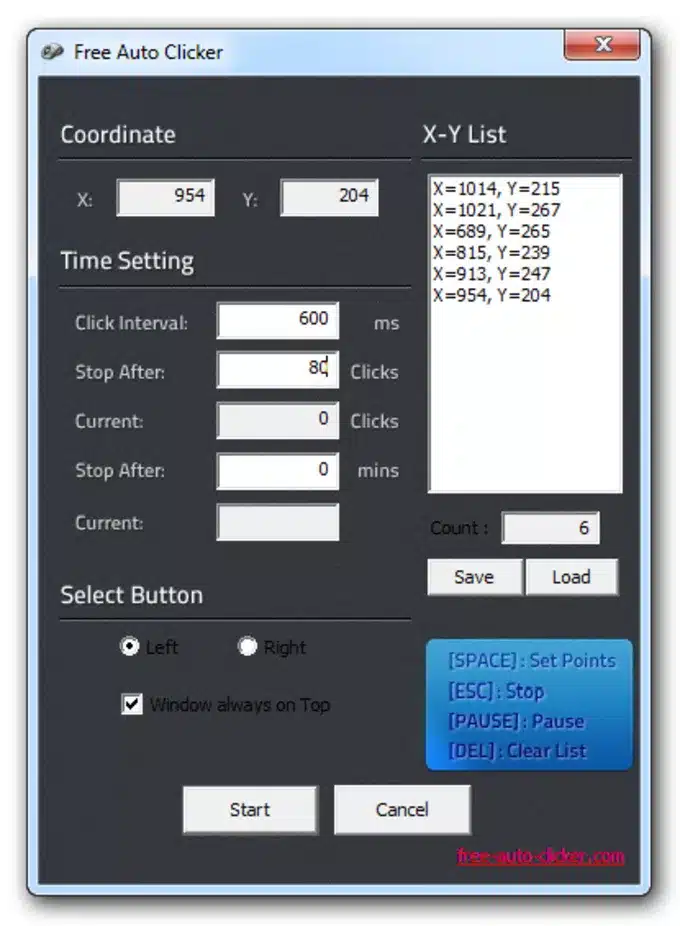 Features
User-friendly interface
Stimulates left and right mouse clicks
Allows you to set custom time intervals
X and Y Coordinate Calculation
Command list to record script
Hotkeys to start/stop the auto-clicking, record coordinates and clear the command list
Free Auto Clicker got all the popularity due to its simple interface. Moreover, it works smoothly on all web pages.
As free, you can make the most out of this auto-clicker tool to win the game. 
5. Auto Click Typer
It is a free program that automates keystrokes and mouse clicks so that you can play Minecraft without hustling.
It allows repetitive clicks and button strikes simultaneously, like Tgmacro.
Due to the record and auto-script function, Auto Click types gives you more control.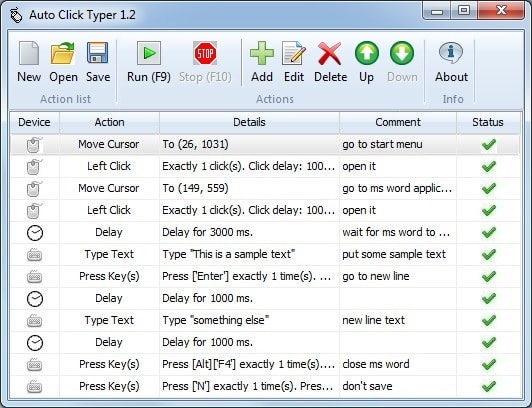 Features
Easy and convenient
Windows operating system
Allows setting specific click actions
Allows customization
Auto script function
Occupies low disk space
So, even with no programming language, you can use this tool and save time and effort. It is also free to use.
6. OP Auto Clicker
It is one of the popular auto-clickers used by gamers.
It is a fully-fledged tool with two modes of auto-clicking- your dynamic cursor location or at a pre-specified place.
With OP AutoClicker, you can set the number of clicks you require per second.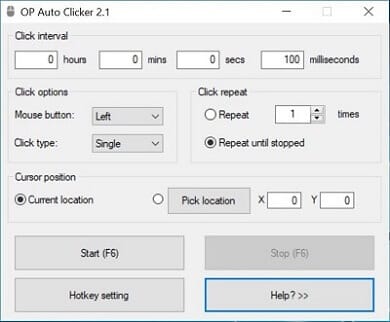 Features
Convenient and easy
Hotkeys selection
X and Y target options
Saves settings automatically
Free and open source
Low CPU usage
AutoClicker is completely malware and virus free, helping you score more in Minecraft.
So, these are some of Minecraft's most popular and trusted auto clickers that will enhance your gaming experience and ensure a better score every time.
Frequently Ask Questions (FAQs)
Ques 1: Are auto clickers allowed on Minecraft?
Ans: Minecraft doesn't care whether you use an auto clicker.
However, a few servers don't allow using auto clicker while playing certain games, including Minecraft.
Such servers may ban you if it is against their terms and conditions. 
Ques 2. How to get an auto clicker in Minecraft?
Ans: Download a reliable, virus-free, and authentic auto clicker on your device, and install and launch it.
Fill in the different parameters such as Click type, Click Interval, Click repeat, etc. Now bring the floating panel of the clicker to the game and start using it.
Ques 3. How to know which is the best Minecraft autoclicker?
Ans: Make sure the auto clicker you are downloading comes from a reliable and authentic source.
Many unauthenticated clickers may infect your device with a virus.
Also, check the clicks per second rate, that is, how fast it can work to help you win the game from the opponent.