1. Supported Platforms
Our tool is currently available for Windows. However, we are in the process of upgrading the tool and making it available for all platforms.
2. Installation:
TG macro is a ready-to-use software. You must navigate the Download page and click the "Download Now" button to start the process. 
It would take about 10 seconds to download the "tgmacrpro.exe" file. Once downloaded, open the software and start building unlimited gaming macros.

3. Menu
Load Project – Use it to load a new project in TG Macro
Save Project – You can use this to save the macros as your project. 
Import Project – You can use it to import the project files into the TGM
Clear All – Use it to clear all the changes and start making a fresh project.
Exit – Use it to close the TGM application.
Enable(Home) – You can activate or deactivate macros. Macros won't be triggered if you disable it.
Add New – You can use it to create a new macro project.
Always On Top Lock: When you enable this function, the software will always be on top of other screens.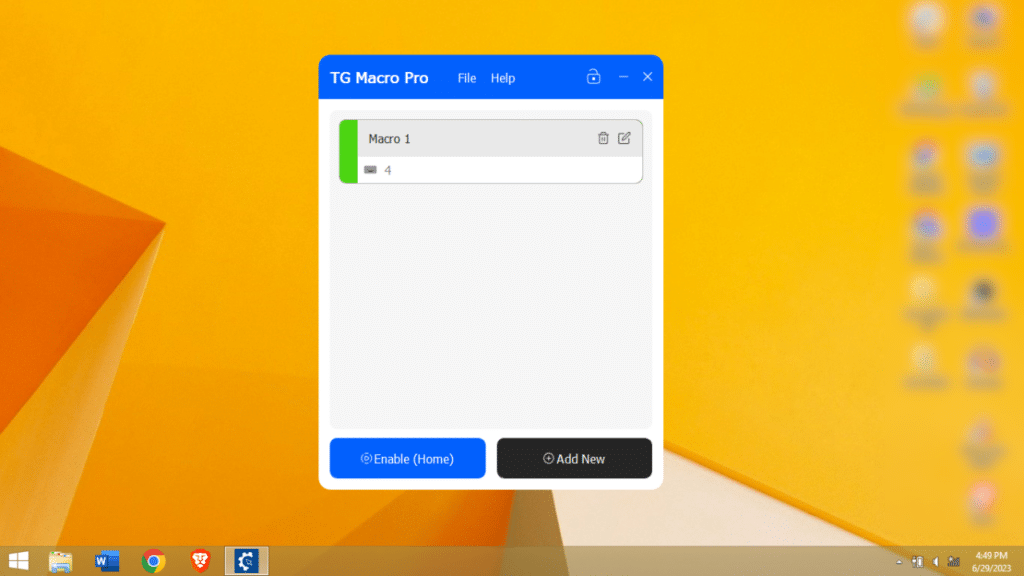 4. File & Help button
File: The user can save/import the macros created in the TG Macro application. Users can share the macro files with their friends.
Help: refers to the application's guides, updates, and developer details.
4. Triggering
Trigger Actions By:

Key Events – Key presses will trigger the macro
Pixel Events – The macro will be initiated when the color changes

When:

Key Pressed – The macro will run one time when the selected hotkey is pressed.
Key Hold – Macro will only run when the selected key is pressed and held. The macro will stop running when the key is released.
Key Toggle – When the user press the selected key, the macro will start running on repeat until the user again presses the same select key.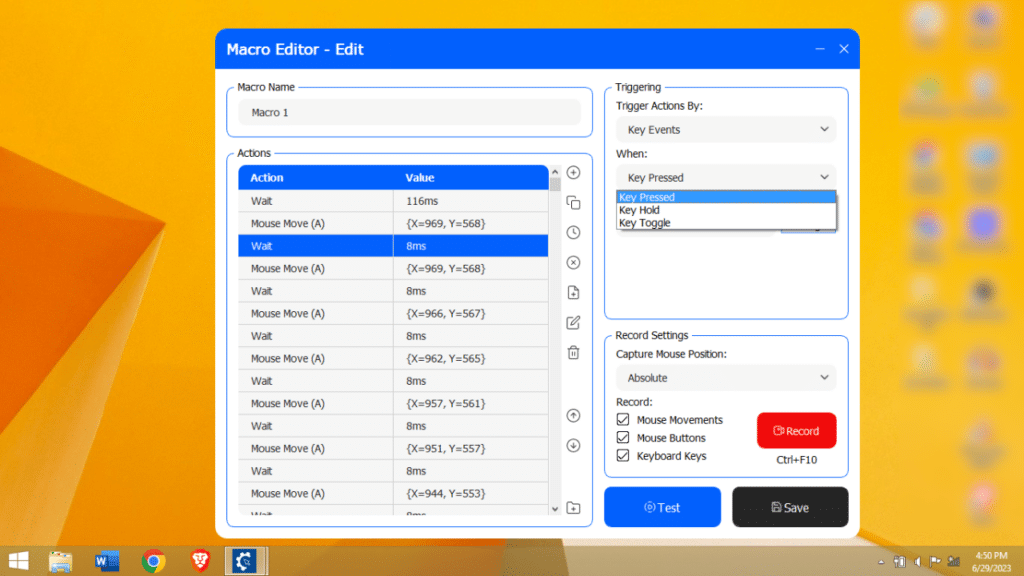 5. Record Settings:
Capture Mouse Position:
Absolute: The macro will start from the original position of the curser.
Relative: The macro will start from the current position of the curser.
Record:
Mouse Movement – All the mouse movements will be recorded in the macro.
Mouse Buttons – All the mouse clicks will be recorded in the macro.
Keyboard Keys – All the keyboard presses will be recorded in the macro.
Record Button: The record button is used for starting the macro recording. You can also start the recording by using the "Ctrl + F10" function.