Are you fed up with repeated mouse clicking and looking for some quick and easy task automation tool?
Tiny Task is your savior. 
Different tasks on the computer system, such as online form filling, data entry, copy-pasting, playing games, etc., require repetitive mouse clicking and keyboard pressing.
While initially, it looks exciting, the repeated mouse clicking makes the task mundane and the game uninteresting over time. It is when an efficient automation tool comes in handy.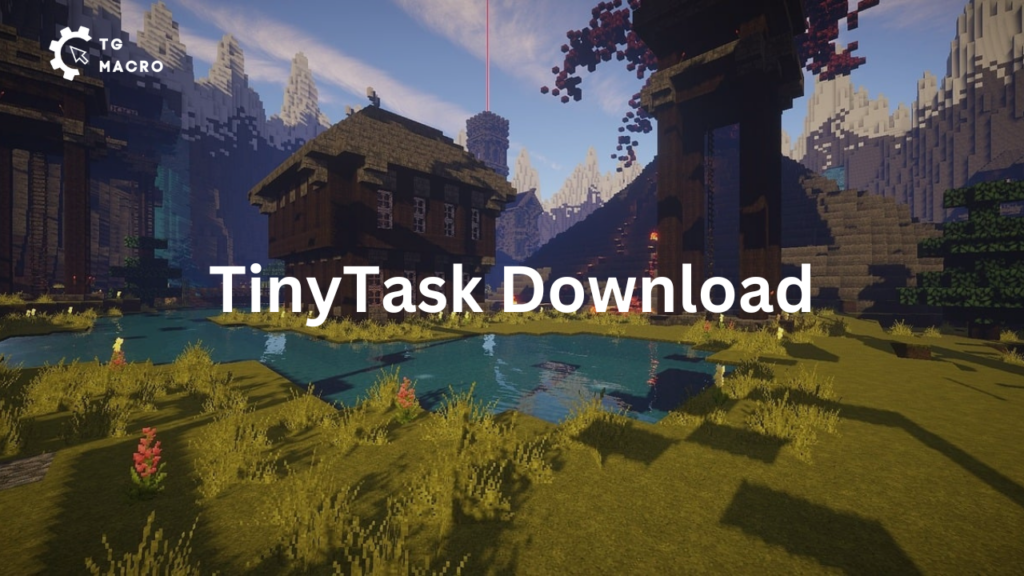 What is Tiny Task?
It is a minimalist programming tool that records repetitious actions and automates them.
As the name suggests, it is one of the smallest automation tools, with a size of only 36 KB. Due to such a tiny size, it is ultra-compact and 100% portable.
It is considered as the best auto clicker for Roblox because of its minimilistic design and easy to understand interface. With no complexities, even noncoders can use it without hassle.
Unlike other auto clickers, there is no installer in Tiny Task. Moreover, it doesn't require files or anything unnecessary that could hamper your system's files or folders. In this way, it is a safe and highly valuable automation tool.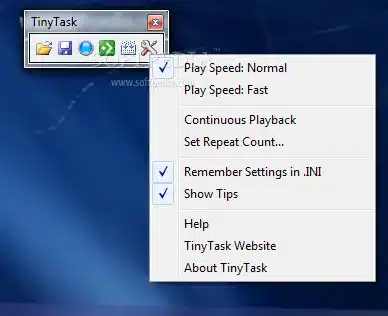 How Tiny Task Works?
This software doesn't require any program-specific macro or knowledge of coding or scripts. It works by recording a sequence of actions you perform on your computer and playback that recording, performing the same actions again.
If your work is constant, you can play back that recording an infinite number of times or for a limited number of times, whatever you desire.
Features
Large toolbar with improved readability
Custom toolbar capability
Custom playback speeds
Alt+Tab support for app switching
Small, simple, with a user-friendly interface
How to install and use Tiny Task?
1. Installing The Tool
To install it on your device, you need to visit its official website. After that, click on the download button to get the application in your system. It is a free application to download and use.
Open the downloaded file and click on Run. The tool will get installed in the device for you to use for automating your tasks.
2. Using The Tool
The major function of the tool is to record your actions and perform the same series of actions repeatedly. So, before you start recording, organize your tasks ahead of time.
For instance, if you are filling out online forms with details like name, gender, address, and phone number, organize them in a structured fashion. First, the name, followed by gender, address, and finally, the phone number: Charles Addams, Male, 9601 Wilshire BLVD STE 1, Beverly Hills, (310) 285-2476.
Now, record yourself filling out a form and completing all the steps. Open the form, fill in the details in a sequence by cutting and pasting, and finally submit.
Once this recording is created, sit aside and take some rest while it will fill the rest of the forms for you, repeating the actions in the same manner.
What are the alternatives to TinyTask?
It is an easy, small, and great automation tool, but it comes with certain restrictions. For instance, you can automate only mouse clicks. At the same time, it does not offer any advanced features. Also, since it is free software, there is a lack of documentation or technical support.
So, if you are looking for an auto clicker with advanced features and technical support, here are a few options to explore:
1. Advanced Auto Clicker
As the name indicates, it is one of the advanced auto clickers with features like advanced hotkeys, advanced profiles, easy interval settings, location settings, foreground settings, etc.
However, its size is bigger. So, if the size is not the issue, Advanced Auto Clicker could be a good alternative.
2. Auto Clicker Typer
It comes with fully customizable script options. All you need is to press record and play. It could be a boon for sandbox games like Minecraft and a bane for others. Auto Clicker Typer allows easy editing, adding, or deleting of the auto script.
3. Perfect Automation
It is a comprehensive auto clicker with advanced features such as a keyboard and mouse recorder, scheduler, script editor, and much more.
Also, if you are a serious gamer and want to give your best shot, Perfect Automation is your go-to solution. It offers a complete automation solution and comes with a macro recorder and script editor.
FAQs
Ques 1. Is Tiny task safe?
Ans: Yes, Tiny Task is completely safe and free of viruses. It is a small size automation tool with no malware. Make sure you download it from its official website.
Ques: 2. Is Tiny Task free?
Ans: Yes, it is a free software that you can download and use to automate repetitive tasks.
However, if you feel the program is useful to you, you can donate a certain amount to the developer to keep the software alive.